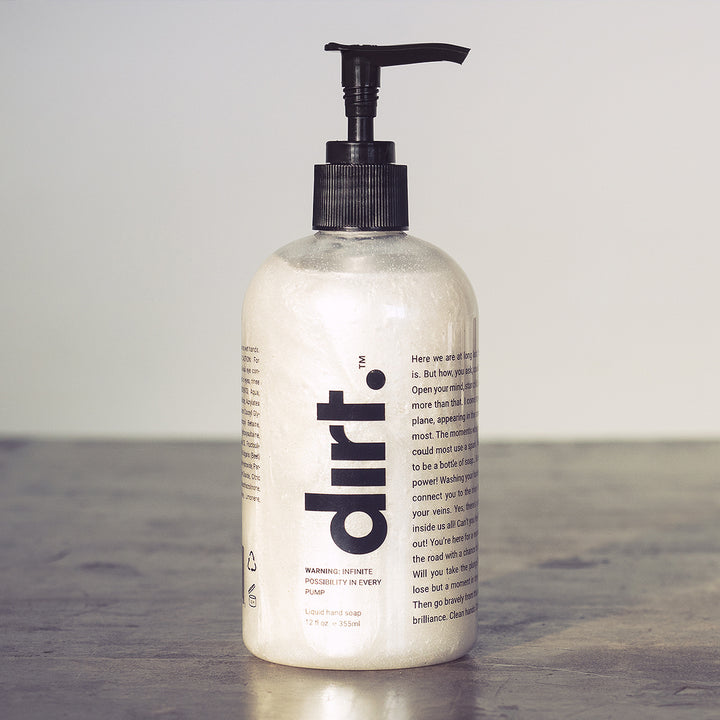 Dirt Soap
Sale price Price $20.00 Regular price Unit price / per
No pity here. No wallowing. Action! Here you are, with the chance to change everything—grab it and shake it by its tail! 
Cleaning your hands cleans your mind. Science says it's true. So… start fresh! Wash those hands! Feel the fine pumice scrub out doubt and discomfort. Shake up your senses with a revelation of ten essential oils, each selected for its ability to cut through the mental clutter and unlock your creative spirit. Allow the shimmer and bubbles to rinse easily down the sink, taking sloth with it and leaving only inspiration and energy in its place.  
Your mind will feel as clean and refreshed as your hands.

Liquid hand soap, 12 fl. oz. e335ml
H O W  T O  U S E
Pump into wet hands, lather, rinse well.
C A U T I O N
For external use only. Avoid eye contact. If product gets in eyes, rinse with water.
I N G R E D I E N T S
Aqua, Sodium Laureth Sulfate, Acrylates Copolymer, Potassium Cocoyl Glycinate, Cocamidopropyl Betaine, Cocamidopropyl Hydroxysultaine, Pumice, Polysorbate 20,  Fructooligosaccharides, Beta Vulgaris (Beet) Root Extract, Sodium Hydroxide, Parfum, Mica, Titanium Dioxide, Citric Acid, Methylchloroisothiazolinone, Methylisothiazolinone, Limonene, Linalool. 
F U L F I L L M E N T
Dirt™ Worldwide, LLC, 275 Seventh Avenue, 27th Floor, New York, NY 10001, USA
© Copyright and distributed by Dirt Worldwide, LLC